At Wauseon Eye Care, we are pleased to offer a wide range of optometry services for our community! Our experienced optometrist can provide you with thorough eye evaluations, determine if you need corrective lenses and your exact prescription strength, fit you with the appropriate specialty eyewear, and help you pick out the most flattering pair of glasses for your face shape and skin tone.
Our new patient appointments always begin with a comprehensive eye exam. If you are unsure of your family's eye health history, it's helpful to research beforehand, so we can better evaluate your own eye health. If you have never had a comprehensive exam, don't worry! All the tests and exercises are simple and painless.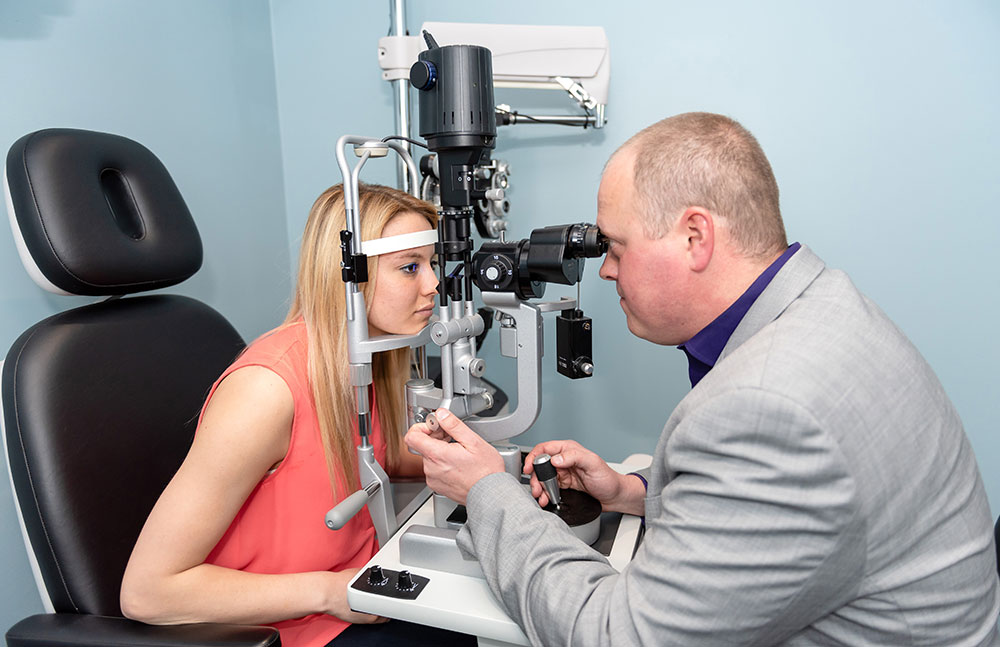 Comprehensive eye exams may include:
Testing visual acuity or refractive error
Pupil evaluation with or without dilation
Examination of peripheral visual field
Color vision testing
Analysis of the visual systems
Examination of the external parts of the eye
Intraocular pressure measurement
Examination of the health of the entire eye
Our doctors can diagnose and treat eye diseases and identify general eye health problems including diabetes, anemia, high blood pressure, and others. We can also test for and fit specialty eyewear for sports, occupations, other activities and hobbies, and safety glasses.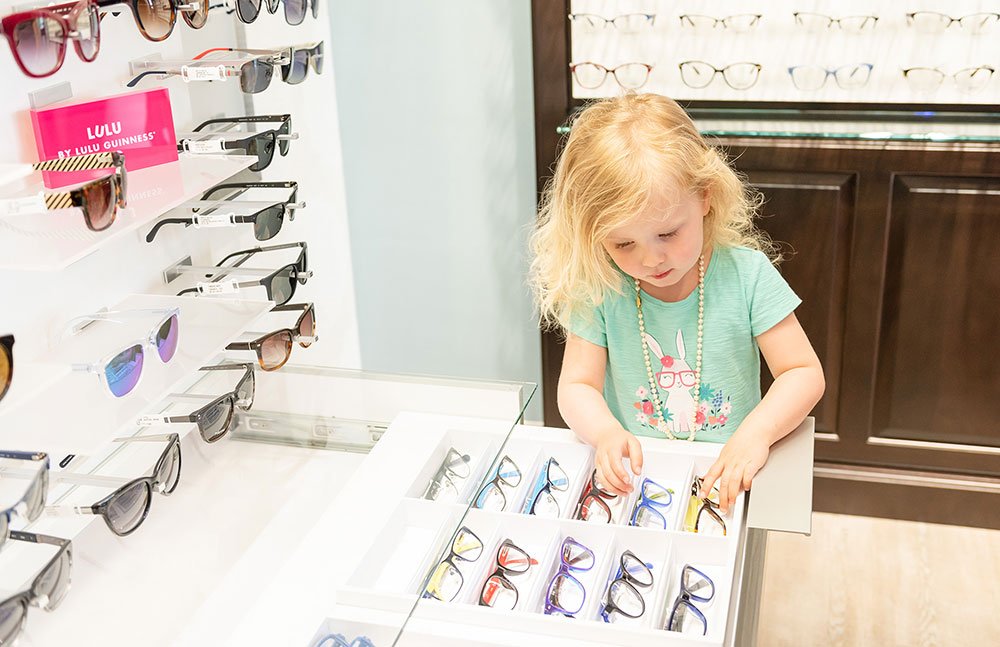 Our Optometric Services:
Comprehensive eye exams
Contact lens fittings
Diagnosis and treatment of eye disease
Specialized testing and care for cataracts, glaucoma, and others
Pre-and post-operative care for eye disease
Eye emergencies
Foreign object removal
Vision services for visually impaired
We can answer your questions about optometry services, our eye care practice, eye health products, and more.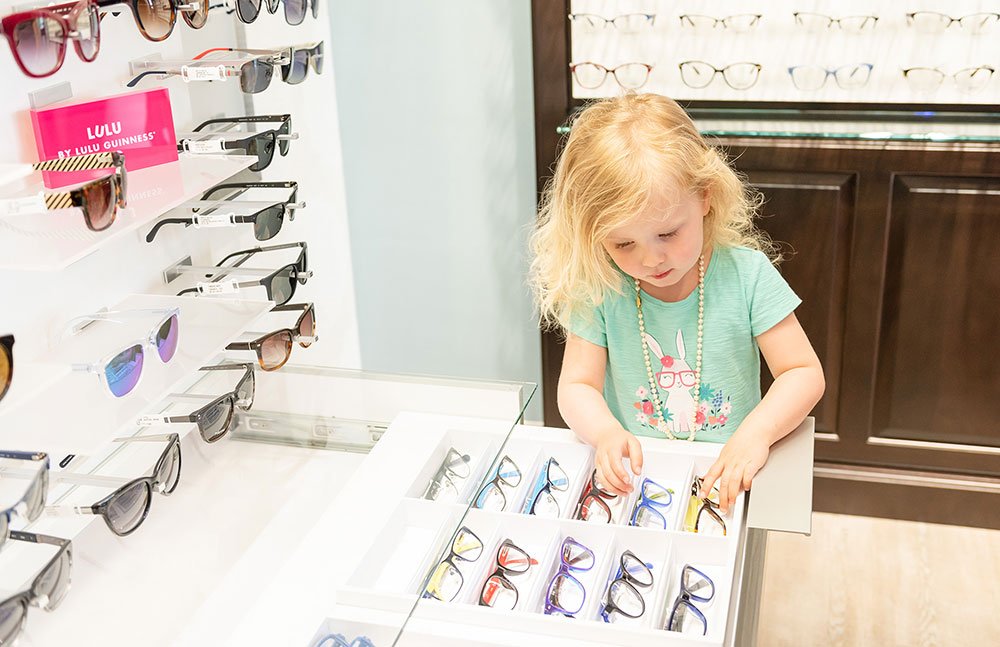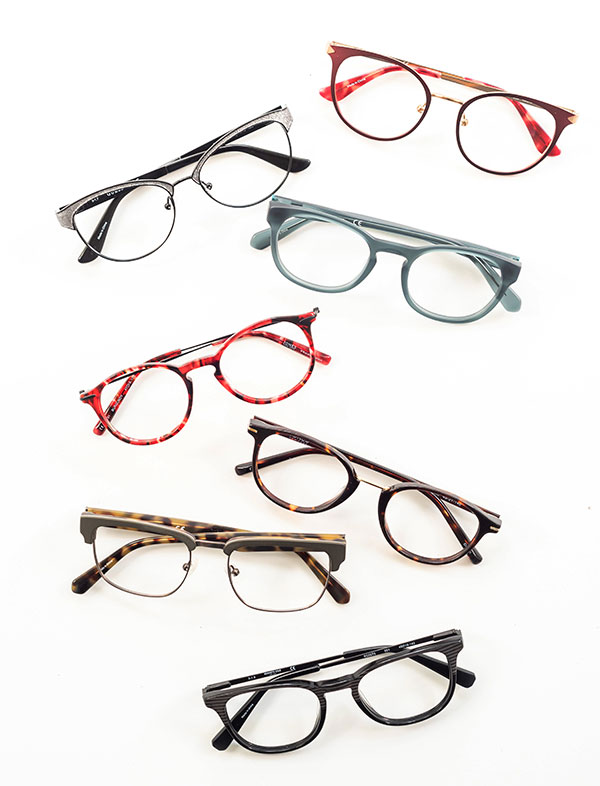 Eyewear Gallery
Our staff specializes in matching patients' visual and lifestyle needs to specific lens options. VSP Vision Insurance accepted.
Our Brands:
Etnia Barcelona
Seraphin
Titanium Perfection
Carolina Herrera
Police
Marciano
Buffalo David Bitton
Kenneth Cole New York
Liz Claiborne
Banana Republic
Lulu Guinness
Kate Spade New York
Call us today or schedule your appointment online.
What to Expect
The best way to protect your vision is a yearly comprehensive eye exam. When you arrive at our office, you will be greeted with friendly faces. Each eye exam will use the latest state-of-the-art technology to assess your eye health. Our doctors will inspect your eyes, answer questions, and discuss your eye care treatment options. In addition to determining your vision prescription, our doctors will test your color vision, depth perception, and check for any early indicators of possible eye conditions such as cataracts, retinal problems, and glaucoma.
Our goal is to have each patient leave satisfied knowing that they are receiving the best eye care products and services possible. We have answered a few frequently asked questions regarding eye exams below.
Why is my personal background important?
In order to better tailor the eye examination to your needs, our doctors may review any current vision problems, your general health, as well as discuss your hobbies and lifestyle requirements.
Why does my doctor ask me, "Which is better: one or two?"
While evaluating your prescription, our doctors will ask you to compare a series of lenses to determine which allows you to see clearer. As the differences become less noticeable, our doctors will be closer to finalizing your prescription. If you're having a hard time choosing between the options, it means you're almost done with this part of the exam!
Why is it necessary to know my blood pressure?
In addition to other health concerns, high blood pressure can affect the blood vessels in your eyes, which could lead to future vision problems.
Why am I asked to follow a light with my eyes?
This part of the exam helps determine how your pupils and eye muscles react and assists in gauging neurological function.
Is it necessary for the doctor to dilate my pupils during the exam?
Although pupil dilatation is not always necessary, our doctors may make this decision during your exam. If required, this painless process is like opening a door so our doctors can fully examine your retina. Dilation can assist in detecting diseases such as diabetes, high blood pressure, and macular degeneration.